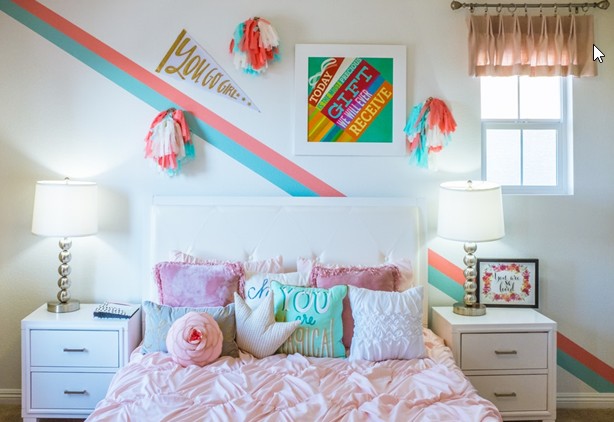 When it comes to decorating your child's bedroom, there is a lot to consider. You might want to think about how old your child is, and whether they want a say in how their room is designed. You may want to consider how the design will fit in with the rest of your home's style.
No matter what, one thing that is absolutely vital in a child's room is lots of storage! Kids tend to accumulate toys rather quickly and, especially with Christmas on its way, it's a good idea to get more storage than you think you need. A good quality sliding door wardrobe is the perfect way to do this.
A child's room should be a lot of things – it should be interesting, functional and stimulating, yet also relaxing, comfortable and stylish.
We've put together a list of the latest trends in interior design for children's rooms, so you can design the room of your child's dreams.
Vibrant Colours vs Calm Neutrals
One trend that's been around for a while is vibrant colours. Painting your child's room with one or two bright walls can stimulate their minds and make their room a fun space where they want to spend time playing. Colours which make particularly good choices are yellow, which exudes happiness and joy, and red which is universally enjoyed! Add this Red Glass Linear sliding door wardrobe to incorporate both bright colours and storage.
At the other end of the spectrum, it has become popular over the last couple of years to use calm neutral colours on the walls of your child's room, adding pops of pastel colours throughout the room. This creates a more peaceful area and encourages calm and sleep.
Add Adventure
Another trend is adventure! Add adventure to your child's room by going with a space theme, an ocean voyage theme, or a fantasy theme.
For fantasy, think unicorns! They are a trend in themselves and one which isn't going anywhere anytime soon.
Loft Beds
Not only are loft beds stylish, they are also incredibly functional. By elevating the sleep space above the rest of the room, you can create invaluable space below which can be used as storage, a desk or just a play area. To increase the fun level, add a slide!
This trend works especially well in smaller children's rooms.
Educational Aspects
The best way to help your child to learn is to have a part of their room which is more educational. This could be chalkboard wall or a letter magnet wall where they can practise reading, writing and spelling.
Retro Touches
Be very on-trend by incorporating retro touches to your child's room. One of the best ways to do this is through classic illustrated wallpaper. What does you child love? Dinosaurs? Boats? Flowers? There is sure to be a wallpaper design to suit them.
Feature Ceilings
Feature ceilings are a bold choice, but where else can you have fun with one if not in a kid's room? They give your child something interesting to look at as they try to fall asleep and can be designed in a number of ways.
Go with glow in the dark stars on the ceiling, simply paint it a bright colour or even wallpaper it! Perhaps you could paint clouds on it, to replicate the outside and make a calm, peaceful space.
Whether you decide to include these trends in your child's room or not, make sure you add ample storage with a good quality wardrobe!