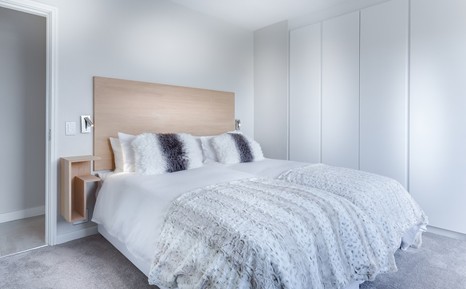 Here at the Sliding Door Wardrobe Company, all of our sliding door wardrobes and hinged door wardrobes that have glass in their designs are made using safety glass. But what exactly is safety glass? How does it differ from regular glass? And, how is it beneficial to you?
What is it?
If you haven't heard of safety glass, you're not alone. It's not commonly discussed however, it is commonly used! It is incorporated into many household and everyday items including cars and phone screens. So, what is it?
Safety glass is glass that's either been toughened or laminated, making it less likely to splinter when broken. It is glass that has been specifically designed to be less likely to break and less prone to inflicting injury in the unlikely event that it does break.
The toughened version of safety glass can also be known as tempered or strengthened glass, and it is processed using heat to make it stronger. The laminated version contains a durable plastic interlayer between two or more panes of glass, enabling the glass to better resist cracking when impacted.
At the Sliding Door Wardrobe Company, our safety glass has a backing that means pieces of glass won't fall out of the panels if they are smashed.
Safety Glass vs Regular Glass
Regular glass, or the more traditional form of glass, is much quicker, cheaper and easier to make than safety glass. This means it has been used a lot for such things as windows in residential properties. However, this type of glass is not as strong as safety glass and shatters into shards when it breaks, which can be incredibly sharp and harmful.
When safety glass breaks, though, it crumbles into small blunt pieces, making it much safer for use in the home, in things such as wardrobes and shower doors.
How Does it Benefit You?
Having this type of glass in your wardrobes is incredibly beneficial. It is much stronger that regular glass, as well as being more scratch resistant.
The chance of injury with safety glass is also drastically reduced which makes it safer to have in your home, especially around children. It allows you to have large, aesthetically pleasing pieces of glass embedded into your wardrobe without having you worry about them being dangerous if broken.
Our selection of glass wardrobes, all of which use safety glass, include the White Glass and Lissa Oak Wood Shaker sliding door wardrobe and the White and Grey Glass Classic sliding door wardrobe. Order your dream glass wardrobe today!