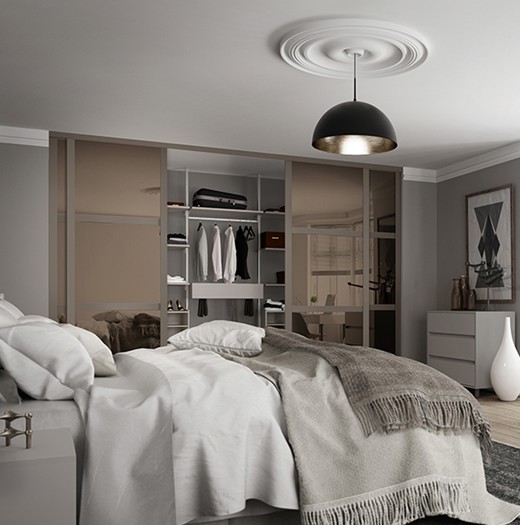 Rather than buy a plain old flatpack wardrobe you have to assemble yourself, why not design your own personalised wardrobes? Wardrobes should be different for each person as we all have varied storage needs. Not sure what you need in your wardrobe? This blog will outline some of the storage and finish options we offer to give you a little taste of what you could have.
Which finish should you choose?
Arguably the most important factor when choosing your new wardrobe is the finish. This is the first thing you'll see when you enter your bedroom, so you need to make sure you love it. The Sliding Door Wardrobe Company has a range of options, with something to suit everyone.
One of the most popular wardrobe finishes is wood. Our woodgrains come in a scope of colours, from Rift Oak Wood to Tobacco Wood. The best thing about wood finishes is that they complement a lot of different wall colours. We think that pale wood finishes look great with white or cream walls, as it gives a really simple and minimalist look. Darker finishes can look better with bold room colours, like red or deep blue.
Our glass door wardrobes have a sophisticated look and come in a range of different colours. Plain white glass has a classic look and will give a bright and spacious feel to the room. If you wanted something a bit more daring, you can choose from a range of 30 different colours of glass!
We also offer mirrored wardrobe doors. These are especially useful for wardrobes in a bedroom, as a full length mirror is an essential part of the getting ready morning routine. Having mirrors on your wardrobe doors will free up wall and floor space in your bedroom where you would have put a mirror.
Which style should you choose?
We are the Sliding Door Wardrobe Company, but did you know we also sell traditional hinged door wardrobes? These are a great alternative to sliding door wardrobes and they give a more classic look.
Our shaker doors can have wood effect panels or glass panels in. They can create a really traditional look, especially a wood door with glass framed panels. This look is perfect for a period style home or a rustic country bedroom.
What type of storage should you have?
Our range of wardrobe interiors gives you the choice to decide what kind of storage you need the most. Choose from hanging or shelf storage, in any combination you need. If you wear a suit every day then you'll probably need more hanging space. If you're more of a t-shirt and jumper kind of person then plenty of shelves would be better for you. Head to our website to use our interactive wardrobe builder to create the perfect wardrobe for you.