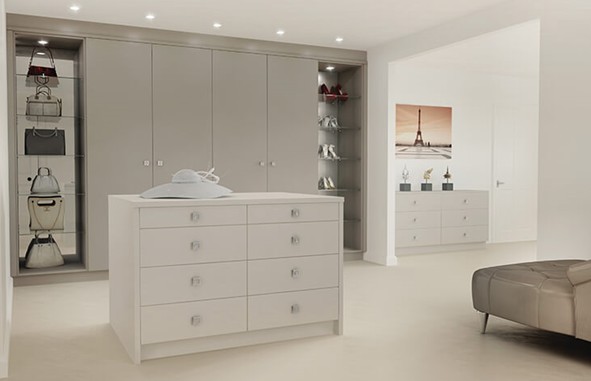 Interior design trends can be hard to keep up with, and sometimes it feels like they're changing all of the time. No worries, we've done the research for you! This blog will go through some of the most recent interior design trends and how you can achieve them in your home in the easiest way possible.
Sustainability
Environmentally conscious homes are top of the list this year. It's important to choose pieces for your home that are responsibly sourced or manufactured that will last for years to come. Our sliding door wardrobes are custom built and made to last. They're the perfect answer for a sustainable home and if you move to a new house, the wardrobe guarantee can be transferred to the next home owner meaning nothing is wasted.
Nature
The natural look was big in 2018 and it's carried right on through to this year. The trend is moving away from smaller succulent plants to larger and brighter potted plants and trees. We've been seeing the banana leaf print in interior design and fashion for a couple of years now – why not bring the real thing into your home? If you make sure to give it enough light and water, it's the perfect house plant.
Primary Colours
Bright pops of primary colours are very popular in the home right now, particularly in living and dining areas. This look is for the bolder of you who enjoy bright colours and making big statements with your decorating. Our glass door wardrobes come in a huge range of colours for you to choose from. Our red glass linear wardrobes would make great living room storage to evoke this popular trend.
Feminine Tones
The other side of this scale is softer and more feminine tones. This trend comes into play more in the bedroom and guest room areas. Light pinks, purples and pale blues are very popular at the moment to create a chilled out area for sleeping and relaxing. Complement some pale blush walls with light wood furniture, like our Rift Oak Wood wardrobes.
Florals
Floral patterns are making a comeback in wallpaper and upholstery. Vintage styles with a busy floral print are perfect for a living room and look great on just one accent wall. This way the pattern doesn't overwhelm the room and instead adds subtle decoration.
Metal Accents
Although the age of rose gold is beginning to pass, metal accents in interior design are still very much on trend. Small accessories like side tables or floor standing lamps in clean, modern metals will give your room a new life. Metal accents are a simply but effective way to add a modern look to the room whilst still making it look warm and welcoming.