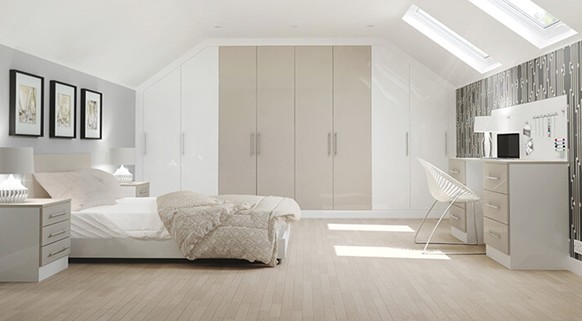 Colour Scheme
As attics are often odd shapes with sloping walls and awkward alcoves, it's good to stick to light colours. Dark colours will only accentuate corners and crevices and make the space appear smaller. A nice bright white is perfect for an attic room and accent of colour can be added with wall art or furniture. As our blog on the latest interior design trends last week pointed out, feminine tones are very on trend at the minute. Try adding light and soft touches of pinks and purples in things like paintings or cushions. These subtle touches will make your attic seem bright and spacious without looking airy and empty.
Furniture
As space can be at a minimum, it's important to have furniture that can fit neatly in alcoves are against the walls. You don't want anything bulky taking up space in the middle of the room. Made to measure fitted wardrobes are great for making the most of space in attic rooms with slanted walls. The Sliding Door Wardrobe Company can make wardrobes to your specification, fitted perfectly to the space you have available. All the storage space is utilised and you can personalise your wardrobe interiors for the type of storage you need. Choose a combination of hanging rails or shelves and extra accessories like drawers.
Finishing Touches
The beauty is in the detail with attic rooms so complete the look of the room with little finishing touches. Stylish throw cushions on the bed are a great way to make the room look cosier. Add a furry throw blanket at the end of the bed as a chic accent. Hang some paintings or prints so the walls don't look too bare – this can make the room seem empty and cold.
We hope this blog has helped you imagine how your attic conversion could look. If you're looking for fitted wardrobes to complete the room, head to our product pages to see some of the options available for space saving and stylish wardrobes. We offer a free design service and if you give us a call we can discuss your project and we can give you a quote.