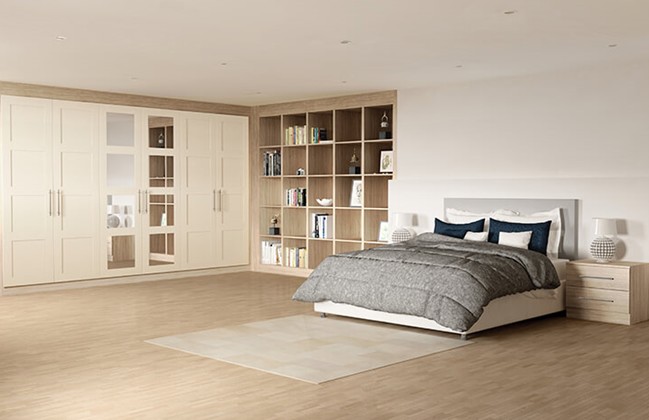 When your head is feeling cluttered and messy, it's easy for the space around you to start looking the same. Feeling busy and stressed can make you feel like you don't have time or energy for tidying and arranging your bedroom. However, it's amazing how just rearranging things a little bit can make a big difference to how you feel in the space. This blog will give some tips for tidying and arranging your bedroom so you always feel relaxed and calm when you're in there.
Consider a total rearrange
It's a drastic option but if you feel totally unsatisfied with your room, you can change around the position of all of the furniture. The most important thing to consider is the functionality of the room. For example, it makes no sense for your nightstand to be on the opposite side of the room to your bed. Also, it's more useful to have your mirrors near your wardrobes so you can see how you look after you've dressed. Alternatively, wardrobes with mirrored doors are a great way to save the space you would have used with extra floor standing mirrors.
Find a place for everything
In order to feel tidy and organised in your room and your mind, it's good to have a place for everything – and make sure everything stays in its place! Organised storage solutions are the best option for this. Sliding Door Wardrobe Company offers a range of wardrobe interiors to help organise your clothing storage. You can personalise your storage options to include a selection of shelving, hanging rails, drawers, trouser handers and shoe storage. Because it's personalised to you, you'll never feel like anything in your wardrobe doesn't have a place.
A little goes a long way
Sometimes a big spring clean can seem a bit daunting and can take up so much time. The way to avoid this is to do little jobs every day so they don't build up and require a long, overdue clean. Try and wipe down your dressing table and nightstand every day or alternate days so dust doesn't build up. A run over with the hoover just before you leave the house can take just a couple of minutes, depending on the size of your room. These little tasks can take two minutes if done regularly but take so much longer if they're left to build up. You'll ultimately feel calmer and more relaxed if your room is clean and tidy at all times.
An organised room leads to an organised mind, so if you feel like your room could use some storage solutions to keep everything in its place, get in touch with Sliding Door Wardrobe Company today. Contact our showroom for any help and advice you might need when deciding on your wardrobe style, finish and interiors.