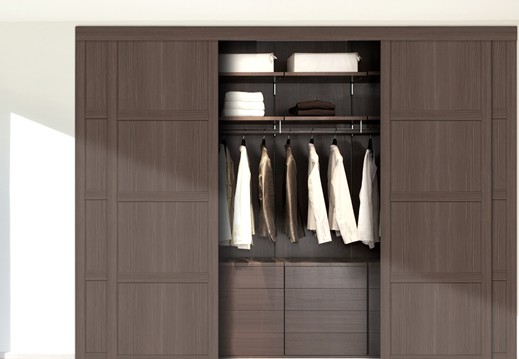 Everyone has a different system for how they organise their clothes in their rooms. There is no right answer here but it's important to choose a system that's easy and convenient for you. There's nothing worse than getting up in a morning and not being able to find what you want to wear, or having to pull everything out of your drawers or wardrobe just to find one thing. This blog will give you some ideas and tips for storing your clothes and how a few simple tweaks can make life much easier for you.
Fold or Roll?
The new question in clothes organisation is fold or roll? Typically, most people fold their clothes in their drawers. However, recently it has become more popular to roll t-shirts and jumpers inside drawers. This means when you open the drawer you can immediately see each item and they're not hidden in a pile on top of each other. Also, rolling clothes is supposed to be better for creases. You avoid that annoying square crease right down the middle of a t-shirt, meaning you have to iron everything all over again.
Wardrobe Options
You can choose from a range of internal wardrobe options to make your clothes organisation a little easier. The Sliding Door Wardrobe Company offer a range of internal wardrobe options and you can choose the ones that are best for you. Mix and match from hanging, drawer and open shelf storage to create the combination perfect for you.
If you are a person who wears suits every day to work then hanging storage is the best option for you. You can keep all of your suits crease free and always looking smart. If you're more of a casual person and like to just throw on a t-shirt, drawer storage is the perfect choice. Are you obsessed with shoes? Storage your dozens of pairs with open shelving within your new wardrobe. Head to our interactive wardrobe designer to create your own wardrobe combination.
Open or Closed Storage?
There are benefits of both open and closed storage and sometimes it's tough to choose between them. Open shelving means you are able to see all of your clothes and see all of the options available. However, open shelving means your clothing is more susceptible to gathering dust and dirt – not great before you've even worn it! A good middle ground is open shelving combined with hanging storage within a wardrobe. This means you can view all of your clothes at once but they are protected from getting dirty or damaged.
Get in touch with Sliding Door Wardrobe Company today to get a quote for your dream wardrobe which will make organising your clothes so simple.