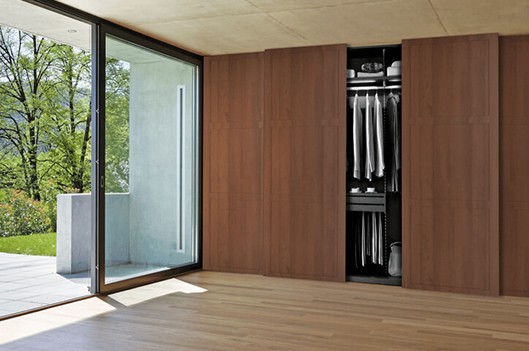 Our made to measure wardrobes come in a range of different finishes, including glass, mirror and woodgrain. Woodgrain finishes are a great way to add some warmth into a room and they look particularly good on a run of fitted wardrobes. We have woodgrain finishes ranging from dark shades to light, so there is something in the range to suit every style and colour of bedroom or living area.
White Avola
This finish is one of the more modern choices in the range. The pale, silver tones of the finish are perfect for rooms with pale and neutral colour schemes. Light woodgrains are the best way to achieve the sought-after Scandinavian interior design look – a minimalist style with simple woodgrains and stripped back designs.
White Avola wardrobes look particularly good in bedrooms or dressing rooms. If you have a large room, utilise all of the space you have and create a long run of fitted wardrobes along one wall. This will give the room a high end, sophisticated look as well as providing you with plenty of needed bedroom storage.
Maple Wood
The warmer tones of Maple Wood are perfect for all rooms of the house. It works particularly well in living rooms, as the warm medium woodgrain shade matches a lot of dining room or living room furniture. Get some extra storage in your living space which you can match to your coffee table or dining room chairs.
Maple Wood looks particularly impressive on large sliding door wardrobes. A shaker style door adds a traditional twist to the modern doors and gives the home a cosier feel.
Lyon Walnut Wood
One of our favourites of our woodgrain finishes, Lyon Walnut has a striking, prominent woodgrain pattern. This obvious grain looks great on long runs of wardrobes in either bedrooms or living rooms. The pattern can contrast beautifully with some glass panels, which makes the room look more modern.
It goes well with both neutral and bold colours – go to our website to see how we've styled it with calming lavender grey and a striking fuchsia.
Walnut Wood
One of our darker woodgrains, Walnut Wood has deeper woodgrain shades incorporated into it. The lighter tones have a reddish hue, creating a warm atmosphere in which ever room you decide to install your wardrobes in.
A handleless, sliding door in this stunning finish will make a big impact on the room. Choose a contrasting interior finish in Silver or Grey Avola to add to the high end, luxurious feel of this wardrobe. Team Walnut Wood with light coloured wall and floors, as dark colours combined with a darker woodgrain wardrobe could start to make the room look cramped.
Woodgrain wardrobes are the perfect solution to warming up a bedroom and giving you all of the storage space you need. Go to our website to see our full range of woodgrain shades available and to arrange your free design consultation.