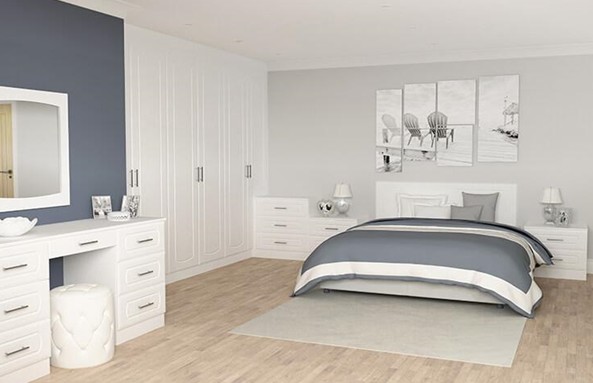 The coastal theme is a constant in interior design that has evolved through the ages. From classic, kitschy nautical accessories like ship's wheels and portholes, to simple coastal colour schemes, there are a million ways to achieve this look in your home. Whether you live near the sea, or just like to feel like you do, this look is relaxing and comforting for homes of all types. This blog will explain a few of the ways in which you can achieve this look.
Colour Scheme
The typical coastal colour scheme is considered to be blue and white. This does create a serene atmosphere, reminiscent of the sea - however, it's not the only option to create a beautiful coastal themed home. An all-white colour scheme works just as well, accented with woodgrain or cork accessories to add warmth to the room and give that beach home feel.
Another classic coastal motif is the use of stripes. It evokes an image of deck chairs and beach tents in a line along the sand and old fashioned striped bathing suits. A full striped wall may be a bit much, especially in smaller rooms, so add striped where you can in small details. Sofa cushions, lamp shades and wall art are a great way to incorporate stripes into the room which can create a nostalgic beach theme.
Materials
There are a whole range of materials that can create a coastal environment in your home. Light woods are always a great way to bring a subtle feel of the beach into the home. Our Rift Oak Wood wardrobes have a patterned pale finish which is reminiscent of driftwood, perfect for creating a relaxed bedroom.
Copper and brass accessories are already very popular in the home. Used correctly, they can make a room feel like the captain's deck of a ship. Try using brass or copper light fixtures or side tables to add this sea-faring material to the room.
Accessories and Art
Art is a great way of bringing the coast inside your home. Framed seascapes instantly add that coastal feel and for a more grand or traditional look try some vintage paintings of old ships – the room will instantly feel more nautical. But it doesn't just have to be art that you frame. Popular in the nautical theme is framing objects or accessories to create your own art. For example, an easy DIY project is framing some rope tied in different knots – so simple but the rope instantly reminds people of the sea, creating the desired effect. Try framing other things, like a vintage swimsuit or some old deck chair material. This is how you can add your own personal flair to the classic theme.
Rooms
Most people associate a coastal theme with bathrooms. It's a common theme for the WC, but you don't have to limit it to that one room. Coastal style bedrooms can be so relaxing – feel like you're by the coast every night. If you do live by the coast, the theme can permeate throughout your home.
For any information on our products or advice on which finishes would look best with a coastal theme, get in touch with us today.