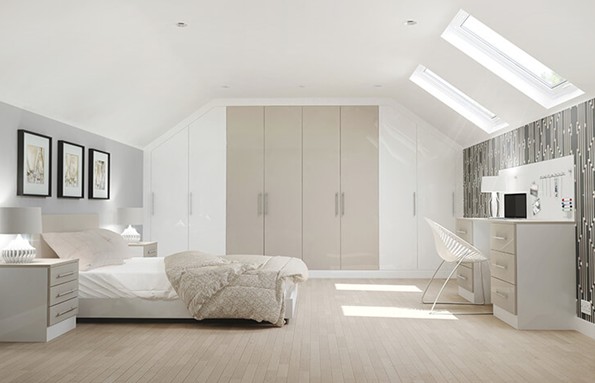 Although you may have a vision for how you want your home to look, sometimes the structure of the building gets in the way of this plan. There can be all sorts of reasons why you have awkward spaces in your home, but there is also a way to make the most of them. Our made to measure fitted wardrobes are tailor made to which ever space you want them in, making the most of every inch of room.
Sloping Ceilings
Attic rooms are a common place to struggle with space. If you have sloping ceilings, it can feel like these really intrude in the space. If you're converting an attic into a bedroom, you might struggle with where to create storage space. Sloping ceilings don't always provide enough space for full size wardrobes.
We can provide bespoke fitted wardrobes to solve your problem. They can be made to measure so they fit the space perfectly, looking great whilst also providing as much storage space as possible.
Old Houses
Often in older houses, walls and ceilings aren't always perfectly straight. Over many years, the structure of a house can gradually change as the floors and walls can warp and shift. This is why old houses are so creaky! This can prove to be a problem when it comes to adding furniture into the room.
Trying to fit a flat pack or rigid wardrobe underneath a wonky ceiling isn't going to work out. Or along a slightly sloping wall – there will always be a gap. Our wardrobes can be specially made just for your house, so you can be guaranteed that all of the space is used and there won't be any unsightly gaps.
Alcoves
Alcoves are often present in older houses which have, or have had, original fireplaces. The shape of the chimney usually leaves two alcoves either side. These are great spaces for storage but finding drawers or wardrobes that fit can be the issue. Depending on the house, these alcoves could be any size and don't always align with standard furniture sizes.
Instead of trying to jam a wardrobe into a space that's too small, or having spare space either side, why not fill the space with personalised wardrobes. Really make the most of your room with completely bespoke fitted wardrobes.
Do you want to make the most of your home's space? Contact us today for a free design consultation where we can measure up your home and make suggestions for storage options. Made to measure wardrobes really are the best way to ensure all of your space is used.