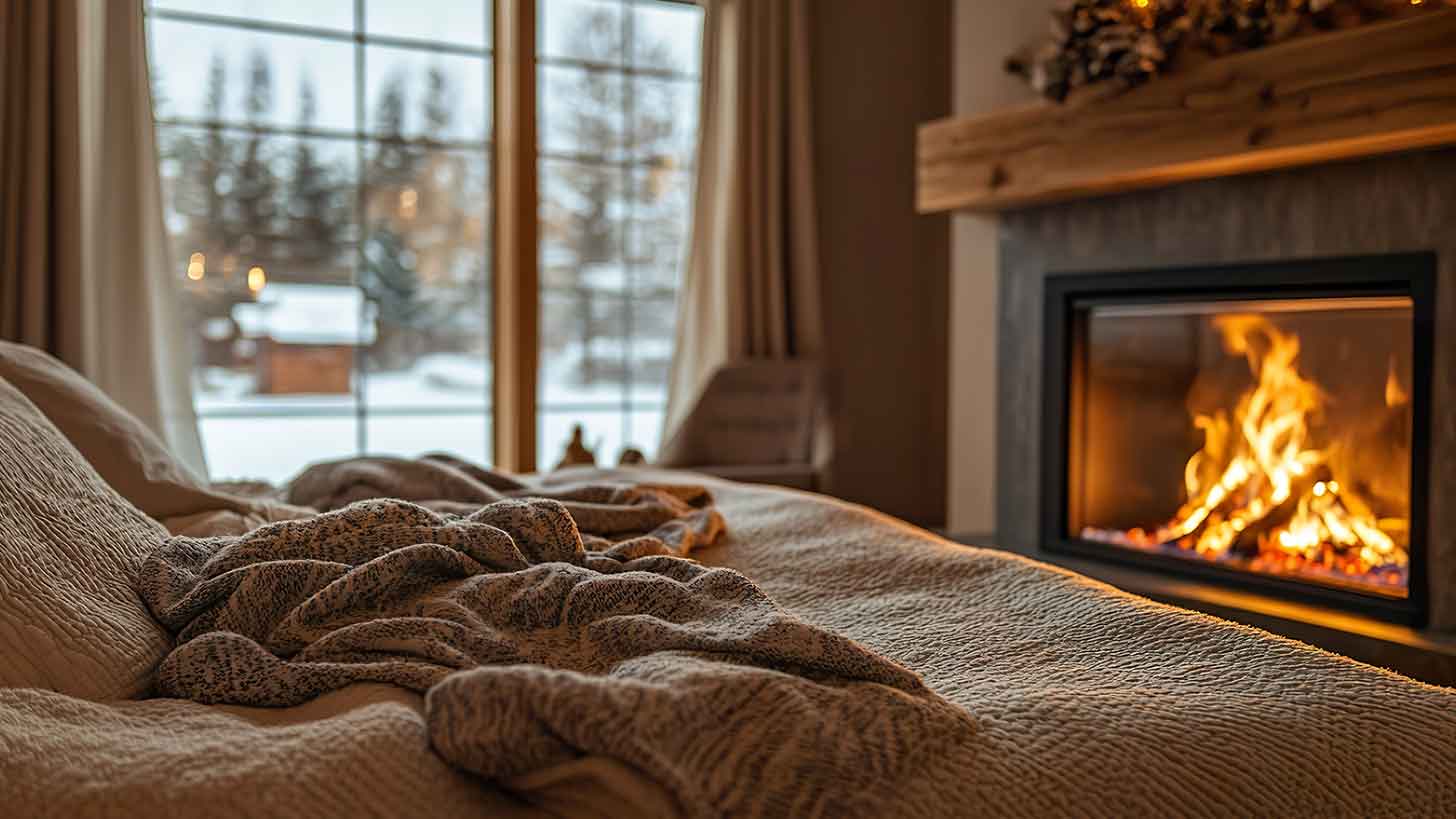 Blankets, rugs and curtains
One simple way to warm yourself up is by including plenty of insulants in your home. Bringing out thick, soft rugs to dig your feet into and wrapping yourself in blankets as you curl up by the TV will help you stay warm, even if it's a snowstorm outside. For cosy winter bedroom ideas, why not change to a thicker duvet? You can wake up warm and refreshed to face the weather outside. Closing your curtains can also help trap in heat, as the average home loses almost 30% of its heat through windows. If you want to watch the winter scene outside, consider keeping one side of the curtains closed to minimise heat loss.
Bringing the holiday feeling to your home
A significant part of enjoying winter is the traditions and social events. Why not invite friends and family over for board games? Or enjoy classic movies during a film night with warming comfort food that's sure to give you that cosy feeling of a winter evening. If you enjoy cooking, making dinner for loved ones and inviting guests over to show off your culinary skills can be a great way to spread the holiday mood. Alternatively, organise the exchange of gifts and catch up with old friends over hot drinks. Winter can be a great time to see more of the people you care about.
Having a cosy interior design
Just as important to creating a cosy home atmosphere in the winter is giving your home a warm and comfortable ambience. Warm colours, like orange and yellow, bring colour to your home even when grey snow covers everything outside your window. To add warm colours, you can add photos and paintings to your walls featuring orange colour palettes and sun-soaked scenes. You can hang up decorations with bright colours, or even give your walls a fresh coat of paint with a bright colour scheme. Adding warm lighting and candles to your dining table or bedside table can also go a long way to making you feel warm in the coldest times of winter, and can be a great way to add to the atmosphere if you have guests over for dinner. Meanwhile, if you're looking for new furniture for home, go for darker wood varieties and shades in order to give that warming feeling to the spaces in your home. Darker wood colours bring a welcoming and relaxed mood to your home for you and visitors.
If you want help in choosing furniture that will match your new cosy winter aesthetic, call us today on 0191 487 5870 to receive advice on a wardrobe that will suit your needs.