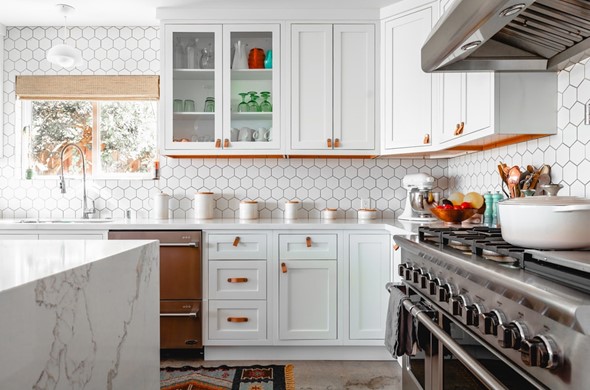 Finding unused items
It's a good idea to do a thorough check of all the unused items you have lying around your house. Question yourself on how often you really use certain objects and why. If you place them all into a box or a bag as you go around the house, you'll end up with a collection of all the things you don't use very often that you don't need filling up important space in your home. You'll be able to live more comfortably with the additional space you'll get from clearing out these items.
Selling or giving away items you no longer need
Out of these items you've collected in a box, take out the items that you no longer use at all and don't need any more. Selling these online, giving them to a charity shop or charitable organisation or recycling them will save on space in your home and give your items to people who might use them more. If your item isn't suitable for these purposes and can't be given to a friend, you can throw it away – but make sure you can't find another use for it first.
Putting less frequently used items in storage
With the remaining items you have that you don't use very often but don't want to sell either, consider putting them into storage. Check if you have any unused storage spaces in your home such as a loft or under-bed drawers. You'll want somewhere that's out of the way but can still be accessed if you need to use these things again. The extra room you get from putting clutter and less useful items out of sight will let you find things quicker.
Organising your remaining items
With the items you still have left on shelves and drawers around the house, organise them in ways that makes them quick and easy to access whilst looking tidy. Having a home that's neat and tidy will help you relax and get things done quicker, enjoying a greater quality of life in your home. If your shoes are left by the door, it might be worth investing in a shoe rack to maintain an organised footwear collection. Or, if your clothes are in need of better arrangement, consider a sliding door wardrobe for style and your organisational needs and to save space in your room when compared to a hinged wardrobe. Unlike hinged door wardrobes, sliding door wardrobes don't impede on your living space when opened. Plus, we can custom build your wardrobe to fit into awkward spaces you might not otherwise use.
To find out more about the advantages of our sliding wardrobes and to receive a free quote, call us today on 0191 487 5870.