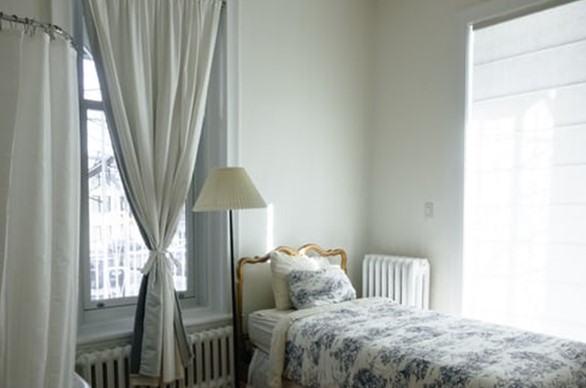 Use a neutral colour palette
To keep the room suitable for the varied personal tastes of your guests, choose a neutral colour palette. This will make your guests feel welcome and make your home feel hospitable. Colours based on white, cream and light blue colour palettes are inoffensive and create a bright space for your guests to feel secure in. When choosing light bulbs, lighting that is in the warm colour range will create a more friendly atmosphere. It will also stop the room from appearing too starkly lit, an effect cooler lighting can have on a bedroom. Once you've chosen the lighting temperature, make sure to place additional lighting around the room, such as desk lamps or reading lights. This will cover the room evenly with light and create a relaxed atmosphere. Adding the option to dim the lights or turn off certain lights individually is also worth considering, as it will help guests wind down for the night.
Keep the space clean and open
Don't furnish the room too heavily or try to cram too much into your guest bedroom. If guests are bringing their own luggage and belongings, the room will need space for them to put their suitcase and bags. Having the room too full will also make their stay uncomfortable if they need to squeeze around furniture. If you greet guests with a room that's spacious and clean, you will make them feel appreciated and welcomed.
Make your furniture count
Too much furniture can be counterproductive and take up too much space in your guest bedroom. Many people use a smaller room in their home as a guest bedroom, so you'll want to make every available inch of the space count. Try to limit the furniture to the minimum necessities and choose options that take up the least amount of space. A small bedside table with a nearby wall socket will be useful for guests to place their phones and glasses on, and a wardrobe is essential for guests to store or organise their clothing and belongings for the length of their stay. With space at a premium, our sliding door wardrobes range can be the perfect solution for this. Not only do our sliding doors take up far less space than traditional hinged wardrobes, but we can fit our wardrobes to the space in your room. If you have an awkwardly shaped alcove in your wall, a corner where a wardrobe might fit or a sloping ceiling which doesn't accommodate most wardrobes, we can help you to design a custom wardrobe which will fit in and take up the minimum amount of space possible.
If you have any questions or enquiries on our wardrobe range, call us today on 0191 487 5870.