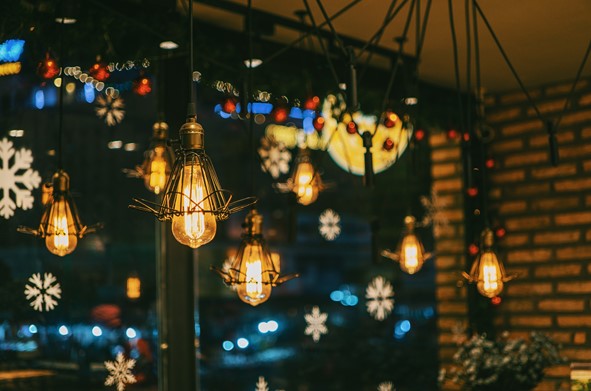 Wall decorations
A fantastic way to add a winter theme into your home is through hanging up wall decorations. These can be made or bought easily – think cutting out a string of paper snowflakes to hang in your hallway, or adding tinsel to doorways. And of course, putting up mistletoe over your door is an important tradition to remember.
Tree decorations
Having a Christmas tree is a tradition dating back almost 200 years, and adding creative decorations to your tree is a great way to impress visitors and make your home more festive. In addition to the regular baubles, try candle lights (use the electronic ones to avoid a fire hazard), traditional Christmas sweets, paper decorations and a few sprigs of red berries.
Lighting
For an extra feeling of warmth and cosiness, hang strings of lights around your home and turn off or dim your main lights. Looping these lights over doorways, furniture and more can create the perfect cosy atmosphere for Christmas Dinner or watching Christmas movies with friends. You can even get creative with shapes and patterns using the lights, creating a reindeer or writing a message using the lights.
Colours
Another way to decorate your home in the Christmas spirit is to use colours around your home associated with Christmas. Green, red, gold and silver are classic Christmas colours, so try adding these colours to areas in your home with paper decorations, Santa hats and Christmas posters. If you want to go the extra mile, collect evergreen foliage, moss, fir cones, dried oranges and cinnamon sticks and create your own Christmas wreath. Not only will this look amazing when hung up, but the oranges and cinnamon will create a delicious Christmas aroma to welcome people into your home.
Wardrobe
As a centre of activity in your home, your wardrobe is one of the things you see most often – and therefore one of the things most important to decorate. Try hanging paper decorations on the exterior of your wardrobe and hanging Christmas lights above the doorway. Make sure your Christmas jumpers, scarves and other clothing is front and centre inside your wardrobe, so that when you open it up, you'll be greeted with Christmas themed clothing. Especially if you have one of our glass sliding door wardrobes, displaying your Christmas outfits front and centre is a priority. Or with the rest of our sliding door wardrobe range, try arranging your Christmas clothes by colour shade. This will mean that when you slide open your wardrobe door, your outfits are unveiled colour by colour.
For more information on our wardrobe range, call us today on 0191 487 5870 to discuss your needs with us.