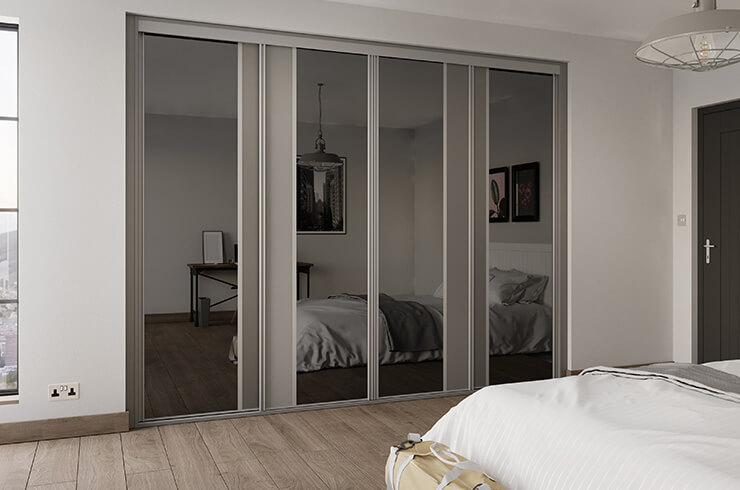 What's the difference between fitted and freestanding?
A fitted wardrobe is one which has been specifically designed and tailored to your needs and room space. It fits the space fully, with no gaps between the wardrobe and the walls and ceiling. On the other hand, a freestanding wardrobe is a wardrobe which is not specifically designed for the space it is being placed in and will likely not fit the room perfectly.
Fitted wardrobes vs freestanding: which is right for you?
Which wardrobe option is right for you? This will depend on your needs of space, storage and budget and well as long-term considerations for your home.
Space availability
With fitted wardrobes, you get more space as opposed to freestanding. These wardrobes are tailored to the full available height and width, allowing you to gain valuable storage space. This is particularly valuable in smaller homes and apartments, where space is at a premium. As home sizes are constantly decreasing here in the UK, it's more important than ever to make best use of the available space in a home, and a fitted wardrobe does just that.
Aesthetics
In addition to practical needs, the efficient use of space seen in a fitted wardrobe is also aesthetically pleasing, as it leaves no unsightly gaps or odd spaces in the design of your room. However, both our fitted and freestanding sliding door wardrobes allow you to choose from a wide variety of materials and design styles, from minimalist to shaker, letting you find the wardrobe style which is right for your home. The variety in these options allows you to match them to almost any design style, creating a continuous aesthetic in your home.
Price
On the other hand, fitted wardrobes are often more expensive than freestanding wardrobes as they have the additional process of measuring and tailoring the wardrobe to the unique space of a room. If budget is a priority for you when choosing between a fitted wardrobe or freestanding, then this may be the best option for you. We offer our sliding door wardrobes from as little as £199 if ordered as freestanding.
Moving home
Freestanding wardrobes are also best if you are planning on moving home in the foreseeable future and wish to keep your current furniture, as their standard sizes will fit in most homes. However, if you're not concerned with keeping all your current furniture, then fitted wardrobes add a lot of value to a home – even if you're thinking of moving house in a year or two, a fitted wardrobe may be a worthwhile investment in the value it will add when you sell your home.
Have any questions about our wardrobes, fitted or standing? Call us today on 0191 487 5870 with your queries to speak to a member of our staff about the options we offer.