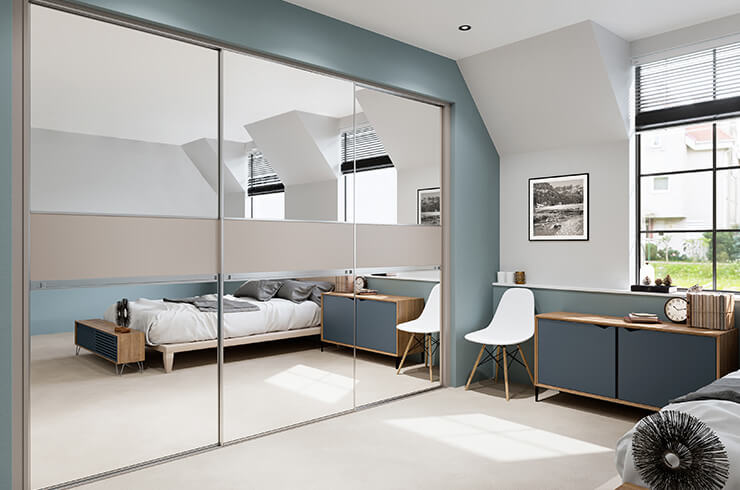 Is a mirror wardrobe the right choice for you?
When choosing styles and materials for a new wardrobe, wardrobes with mirror doors often stand out due to their clean, modern and bold look. Whilst you may be interested in installing a mirror wardrobe in your home, whether this is the right choice for your home design will depend on your desired aesthetic for your home as well as your home's existing features and style. Read on for our design tips on mirrored wardrobes.
What environment befits a mirror wardrobe?
Traditional and heritage homes with their original style of interior design are unlikely to suit the more modern look of a mirrored wardrobe. Whilst traditional homes generally focus on rich colours and texture, large mirrored surfaces are more in keeping with modern design principles of increasing natural light in a room, reducing intricate texture and decorations in furnishings and making the space look as open as possible. More modern design styles, such as minimalist, contemporary and even industrial, can be greatly enhanced by the addition of a fully mirrored wardrobe. Carefully consider your home's existing characteristics and features, and decide whether they would benefit from the features of a mirrored wardrobe. Are you looking to add more light and a feeling of more space or alternatively create a cosier space which emphasises warmth and comfort? Does your intended wardrobe location face towards the source of natural light in your room to make the best use of a mirrored wardrobe?
What are the advantages of a mirror wardrobe?
The reflective properties of a mirrored wardrobe have several design benefits for modern homes. By reflecting sources of natural light in the room, they make the space feel brighter and more open. This is amplified by the mirror helping to create the illusion of more open space in the room, making a room feel more spacious. The lack of texture on a mirrored finish also befits minimalist design styles, helping keep the room's design uncluttered and simple.
Choosing a mirror wardrobe
We offer a variety of stylish mirrored sliding door wardrobe options to suit your needs. From the ultimate minimalist wardrobe options to classic designs and shaker style wardrobes, we have a vast range of wardrobe options to satisfy your design needs. If you want to get down to the details of your wardrobe, we also offer an interactive wardrobe builder to allow you to choose your own materials and select a design bespoke to your needs.
Want to discuss our mirrored wardrobes with a member of staff? Call us today on 0191 487 5870 for information and advice on our mirrored wardrobes.