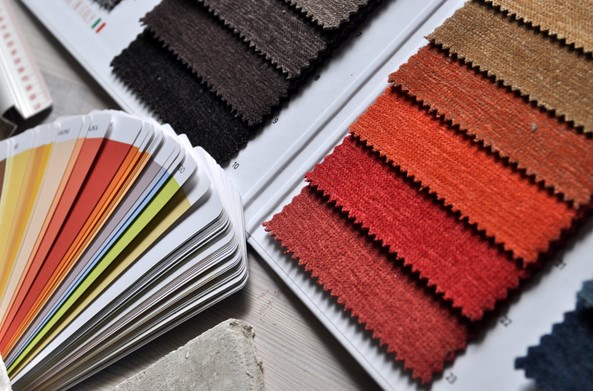 The importance of texture in interior design
Texture is of utmost importance in interior design – the tactile sensation of how a room feels, or how we perceive it to feel from looking at it, forms an integral part of how we perceive a space.
Choosing and mixing the right textures can create a room with visual depth and can help direct attention within a room. Consciously choosing textures which suit your tastes is also a great way to make your home feel uniquely yours. Read on for our tips in how to use and mix textures in interior design.
Matte and gloss
One of the first considerations you'll need to make when decorating a room is the paint you'll be using. Forming a fundamental part of your design, selecting a paint texture is nonetheless a design decision which is often overlooked.
For most properties, a matte paint is most suitable; with its smooth, flat texture and non-reflective properties, it does not draw attention to itself and therefore serves as a good backdrop for the rest of the room's design. However, there are certain cases where glossy paint may be more suitable; by highlighting the imperfections and textures of the wall underneath and by reflecting light, they draw attention to the wall. In rooms where the wall design is distinctive in colour, pattern or design and is a standout feature of the room, a gloss finish can help accentuate this.
Matte and gloss can also be mixed in furniture and other parts of the interior design to provide contrast. For example, mixing different furnishings of the same colour but varying them between matte and gloss can create a depth to the room's design.
Fabrics
By contrasting different fabric textures in your home design, you can interrupt the room's consistency in an interesting and visually appealing way. For example, mixing the coarse cloth of a sofa with a thick faux fur blanket is immediately eye-catching. This goes beyond sofas and armchairs however; you can make use of contrasting fabric textures in curtains, lampshades and even wall decorations.
Wood
The naturally beautiful and complex texture of wood works well to balance out the flat and uniform textures found in many modern design styles such as minimalism. Used sparingly, it can add a touch of homeliness to these design styles without compromising the design aesthetic. To make its effect even more subtle, wood can be painted to be colour-matched with the environment around it whilst still retaining its texture.
Darker woods also work excellently in traditional design styles when matched with fabrics in colours such as rich reds and deep blues. The natural welcoming colour and texture of the wood here helps the home feel grounded and warm. Rustic design styles also make heavy use of wood textures for this reason.
Glass
The ultra-modern look of glass works best in minimalist design styles, where the smooth texture and light it brings in compliments the design principles well. In these cases, glass should be paired with other materials of flat texture and bright appearance throughout the room, with only a few standout objects making use of more exciting colour and texture to emphasise their effect.
Indoor plants
Working with a wide variety of interior design styles, indoor plants help create variety in a room's visual texture. Choose a plant species which matches other colours, textures and patterns in the room; this will help promote variety in your room's texture without clashing.
An essential part of your interior design is your wardrobe. Our sliding door wardrobes are available in a wide variety of material finishes and textures to suit any home. With our interactive wardrobe builder, you can choose the textures ideal for your home design to ensure your wardrobe flawlessly matches your design vision.
Have any questions about our wardrobes? Contact us today on 0191 487 5870 to discuss your needs with us!