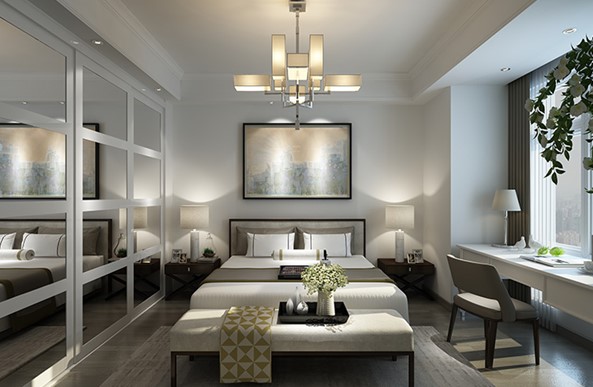 Design statement
There's no doubt about it; a frameless sliding door wardrobe is an exciting and confident statement for a room's interior design. Foregoing the traditional ornate frames of wardrobe design, these wardrobes focus on minimalist beauty, with seamless designs which often incorporate mirrored surfaces.
Built for the modern home
Frameless sliding doors wardrobes are generally designed for the modern home, with materials such as glass and lighter wood shades typically incorporated to match the modern minimalist home aesthetic. A notable feature of modern minimalist design is obscuring moving parts and mechanisms as part of providing an uncluttered design which strips appearances back to their bare essentials. With our range of frameless sliding door wardrobes, every aspect of the design has been carefully considered to provide both minimalism and function. A frameless design can help accomplish this by removing the decorative framing of a wardrobe, simplifying the design and providing a clean layout.
Bold yet functional
Built with our trademark quality and attention to detail, our frameless wardrobes are not only stunning but are also built to last. The concept of minimalism in modern design doesn't appear to be going anywhere any time soon, so you can be assured that your wardrobe will last you through the years whilst still looking incredible. Whilst we pride ourselves on making our frameless wardrobes look amazing, we don't let this come at the cost of function. You'll still find our frameless designs to come with the same function and customisation we are known for, from the smooth sliding door mechanism to the internal design of the wardrobe interior which lets you make the most of the space within your home.
Choose your style
Every home has its individual style and character, factors needing to be taken into consideration when choosing a wardrobe. Frameless wardrobe designs predominantly using wood will be perfect for homes with timeless and classic design styles, whilst frameless mirror sliding wardrobe doors are perfect as a bold design choice for ultra-modern homes. Our frameless wardrobes are available in a wide range of designs and finishes, from ultra-minimalist designs to classic and timeless looks. With almost 50 glass colours, 36 wood varieties and 3 mirror variants available, you can choose the option unique to your tastes and preferences.
Have any questions about our range of frameless sliding door wardrobes? Call us today on 0191 487 5870 with your enquiries to speak to a member of staff!