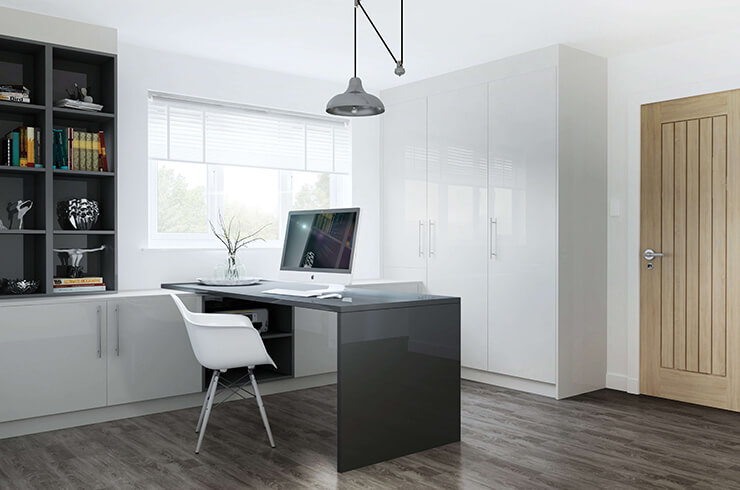 Colour
The room is intentionally limited to a muted colour palette, making use of a limited range of colours to create a stunning uncluttered space which minimises distraction and maximises productivity. Whilst colours such as red could be too passionate for a working environment, or blue too cool and subdued, the black and white colours selected are a balanced choice which works with the room's contemporary design style to make the room both functional and aesthetically pleasing without becoming overwhelming.
The room's contrast in using a dual-tone colour scheme also creates a subtle sense of dynamism and energy to the room. This is not brought to the point of the room becoming off-putting, but rather is used to stop the room from becoming sleepy or dull; the contrast creates a sense of alertness ideal for a working environment.
Glass
The working space also makes use of glass in the table, drawers and wardrobe, with the window also situated directly next to the workstation. The natural light available from the window is therefore reflected and amplified by the glass around it, creating a space which feels bright and open. This is vital for productivity, with studies in office environments showing that the amount of natural light available has a significant impact on productivity and mental health.
The glass also provides a varied aesthetic from the matt textures seen on the door, the walls and the bookshelf, adding a visual diversity which keeps the room's design animated and exciting. Whilst the room is limited to a minimalist colour palette, it expands upon this with variation in textures and materials, once more helping to create a balanced aesthetic.
Room layout
The room's layout is also essential to its appeal and function. The bookshelf's position behind the desk means it is not a point of distraction whilst working but is nonetheless easily accessible when needed, whilst the overhead ceiling lamp is out of the way and makes viewing printed documents easier, especially outside of daylight hours.
The wardrobe and bookshelf's bespoke builds are also essential in maximising the room's open space and functional design. Both are built-to-measure and fit perfectly floor-to-ceiling, optimising the amount of space in the room and simplifying the design by removing odd corners or unused spaces. With efficiency a key theme of the room, the tailor-built furniture assists in creating a considerate and practical workspace.
Our sliding door wardrobes can be tailor-built for your home workspace to match your interior design and functionality requirements, helping create an uncluttered area which makes efficient use of space. Contact us today on 0191 487 5870 to discuss your wardrobe needs!