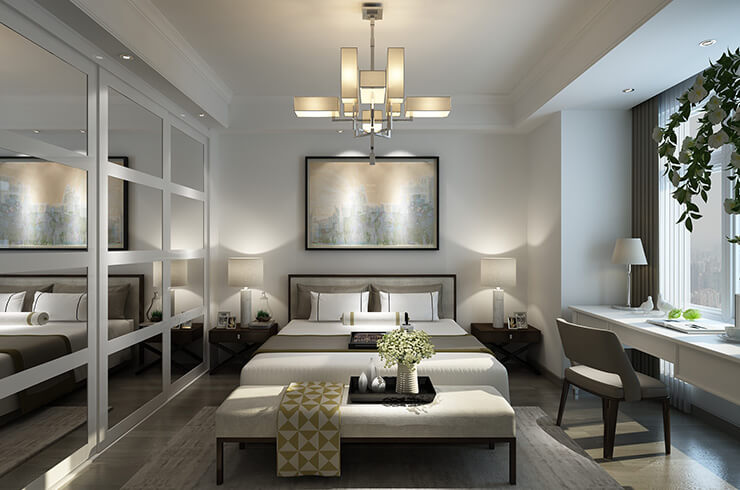 The Hampton style of interior design is a bright and open style which uses a palette of airy whites, light wood textures and natural pastel colours. Inspired by the beach houses of Long Island, the style imitates a relaxed coastal atmosphere, with white predominantly making up the colour scheme and textures used sparsely.
Is Hampton Style Right for Me?
Hampton style is ideal for modern new-builds and works well in homes where natural light and the outdoors is near at hand. However, with a bit of improvisation, it can work in a wide variety of property types.
How to Incorporate Hampton Style into your Interior Design
A white base colours for walls, ceilings and furniture is at the heart of Hampton interior design, whilst flooring is usually timber. This provides the airy and open feeling to the style. Once this is established, you can begin carefully adding in natural wood textures and subtle use of colour; this will add to the relaxed coastal atmosphere of Hampton.
Other materials which can add to this style includes white marble, ideal for kitchen worktops. This is in keeping with the white theme of the style, however it adds some variation through differing texture and material. Touches of greenery through the home are also ideal for Hampton style interior design; small potted plants add that summery, homely touch.
Lighting is also important here. Ideally, you want your home to include as much natural light as possible to replicate this style, but this is not essential if your home struggles with natural light. Lightbulbs with daylight tones, as well including mirrors and glass in your home design, will help to increase the feeling of your rooms being spacious and bright even with minimal natural lighting.
Choosing your furniture is also essential to creating that iconic Hamptons style interior design. Window seats are a typical feature of the style – bespoke ones for your home will work and fit best. Think long, sunny days basking in the window with your favourite book. For kitchen cabinets, white painted wood with glass windows are ideal, whilst rugs in natural shades look great in living rooms.
Hampton Style Sliding Door Wardrobes
Your wardrobe forms an essential part of your interior design style; choosing the right wardrobe for Hampton style can make or break your interior design.
We offer a range of Hampton style wardrobes, from this Hampton Double Panel in Satin Coastland to this Frameless Hampton in Cashmere Oak. These are wardrobes which have been designed for seamless integration with Hampton style homes, with stunning designs which bring out the best in your interior design.
Hampton style is also about creating bright and open spaces; our custom-fitted wardrobes can help create this by making efficient use of space within your home. We can build our wardrobes to fit in alcoves, corners and sloped ceilings, and more.
Interested in our sliding door wardrobes for your Hampton style home? Contact us today to discuss your needs and how we can help you create the perfect wardrobe for your home!