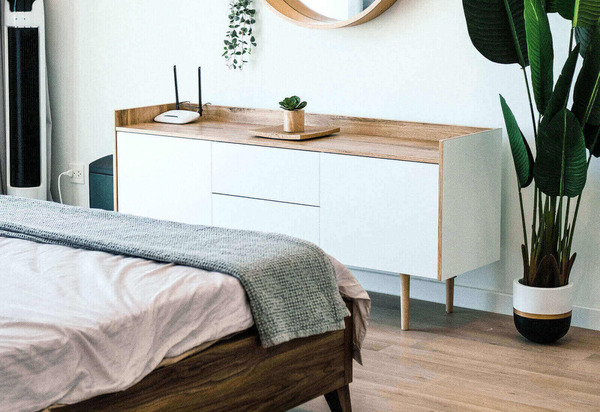 Nordic interior design style is all about merging the practicality and tranquility of a spacious, minimal layout with a warm ambience that you'll look forward to revisiting each and every day.

What is the Nordic Interior Design Style?
This elegant, simplistic trend originated in the 1950's and is a concept that aims to deliver functional spaces with a touch of cosy style. As many people from Nordic countries live in smaller spaces that endure harsh winters, this minimalist interior scheme focuses on utilising space and bringing warmth and joy to the home.

Adopted from natives of the North, this interior scheme reflects the beauty of simplicity and open spaces in the home, creating a clean and modern aesthetic built for comfort. Often Nordic interiors adopt white walls and leverage natural light to create a bright, welcoming space.

The key to this trend is selecting a subdued, natural colour palette of white and light blues with woven textiles including thickly knitted rugs, blankets and cushions.

This style embraces varying textures including light wood and stone, to bring a homely, rustic element. The incorporation of foliage is another aspect of the Nordic interior style that helps breathe life into the room. Accents of greenery and natural clay pots help refresh the look of contemporary style homes and create space that's perfect to unwind in.

A Minimalist Interior Scheme That Needs Innovative Storage
Much like the traditional modern minimalist interior style, Nordic design focuses on sustainable living and investing in materials, furniture and décor that offer lasting durability and functionality. Choosing furniture that will last throughout the years is an essential component in the Nordic interior design style that contributes toward a more eco-friendly lifestyle.

This ultra-modern design trend aims to eradicate unnecessary clutter and transform the home into a comforting, serene escape. Nordic design is all about optimizing your space using innovative furniture and storage designs that last.

Opting for multi-functional storage solutions is the main way in which this design scheme helps maximise the look of the room. Selecting wardrobes that offer strategic internal layouts for convenient storage is important to achieve the desired look of open space and laid-back sophistication. Storage solutions with a seamless design that utilizes clean lines and sleek mechanisms are the perfect choice to evoke Nordic style in your home.

Achieving a Nordic Interior Design Style In the Home
Sliding Door Wardrobe company have a range of contemporary, minimal designs that transform the space in your home and create a stunning aesthetic that lends itself to Nordic style. Our affordable range of Minimalist style sliding wardrobes offer a clean, low-profile design that complement contemporary homes beautifully.

We excel in the production of robust storage solutions that stand the test of time. We specially select the highest quality materials to offer wardrobes that promise longevity as well as beauty.

Our Pure White Glass and Blue Denim Minimalist wardrobes create a sleek, polished look that will add a touch of luxury to Nordic interior styles. For a warm, uplifting atmosphere, choose our Light Hickory Wood sliding wardrobes that create a highly-sought after rustic look with earthy, soft wood panels. We also offer bespoke wardrobe solutions that are tailored to the style and needs of your home.

Interested in our sliding door wardrobes can transform your interior style? Contact us today to discuss your needs and how we can help you create the perfect wardrobe for your home!