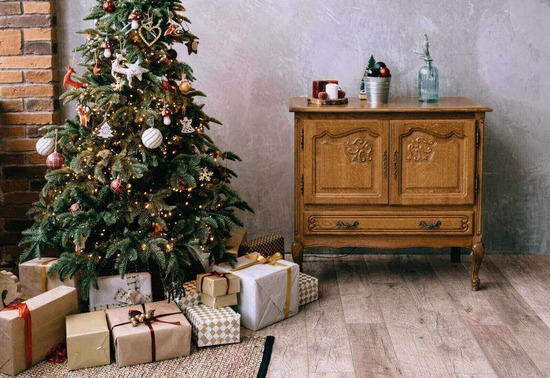 Christmas comes around all too quickly and while it's hailed by many as "the most wonderful time of the year", the festive season creates a sense of urgency and the desire to de-clutter and smarten the home before we finally unwind and let our celebrations commence. Organising your home ahead of Christmas ensures that the big day can be enjoyed to the fullest.
Whether there's a chaotic gift-wrapping station set up in the living room or an abundance of presents that have been bought for younger family members, it's inevitable that the weeks leading up to Christmas result in more clutter than usual in the home. Improper storage and structure in living areas and bedrooms can create a hectic atmosphere that takes away from the positive spirit of the season.
Christmas will be unusual this year and even more challenging with COVID-19 restrictions still in full force. This winter it seems that there's more onus than ever to ensure that the home offers a comforting, warm haven to be able to relax with loved ones.
Declutter Your Home Ahead of Christmas
We're all familiar with the saying 'Tidy house, tidy mind' and this ethos certainly rings true at Christmas time when household clutter is at its highest.
Decluttering your home and clearing out excess décor, furniture and old belongings can significantly improve sleep, reduce stress and clear the mind to increase focus and productivity throughout the day. Not to mention, neglected household items often harbour dirt, dust and mould so a thorough clear out ahead of Christmas can lead to more hygienic living and less home maintenance.
Home Organisation Ideas to Inspire You This Christmas
In order to maximise the living space in both small and large homes in time for Christmas, we've put together a definitive list of tips to help you achieve a calm and beautiful interior.
Rearrange the Furniture to Optimise Your Space
Rearranging your furniture to create the best fit for your Christmas décor including your tree is a simple way to attain a smart and organized look in the home before the big day comes around. Whether furniture is pushed closer together to optimise the space around it or moved closer to the walls to create a spacious look in the centre of the home, this is the perfect solution.
Be Ruthless When it Comes to Clear Outs
It's essential to use the 1 year rule when it comes to clearing out clothing and possessions. If these items no longer serve you, have become eye-soars in the home, and haven't been used within the year, it's time for them to go. Selling or donating these items is a great way to create a spacious, more organised look in no time at all.
Invest In Innovative Storage
Choose storage solutions that blend seamlessly into your interior scheme and offer matchless functionality. Large modern wardrobes with intelligent interior designs are perfect for creating space and enhancing open-plan, minimal looks.
Organising Your Home With Stunning Sliding Door Wardrobes
Sliding Door Wardrobe Company is proud to deliver a range of stylish space-making solutions that are ideal for maximising the look of your home. Crafting a clutter-free, tranquil space ahead of Christmas couldn't be easier with our affordable, minimal style sliding door wardrobes.
Our robust storage systems can be fully tailored to complement your personal style with a range of colours, materials and designs to choose from including our Mirrored style Wardrobes that reflect light beautifully in the home to create the illusion of additional space. Our wardrobes are also available with bespoke interiors that are fully customisable with a stunning range of shelves, drawers and rails to suit the needs of your home.
Looking to uplift your home with our incredible sliding door wardrobes? Contact us today to discuss your needs and how we can help you create the right wardrobe for you!