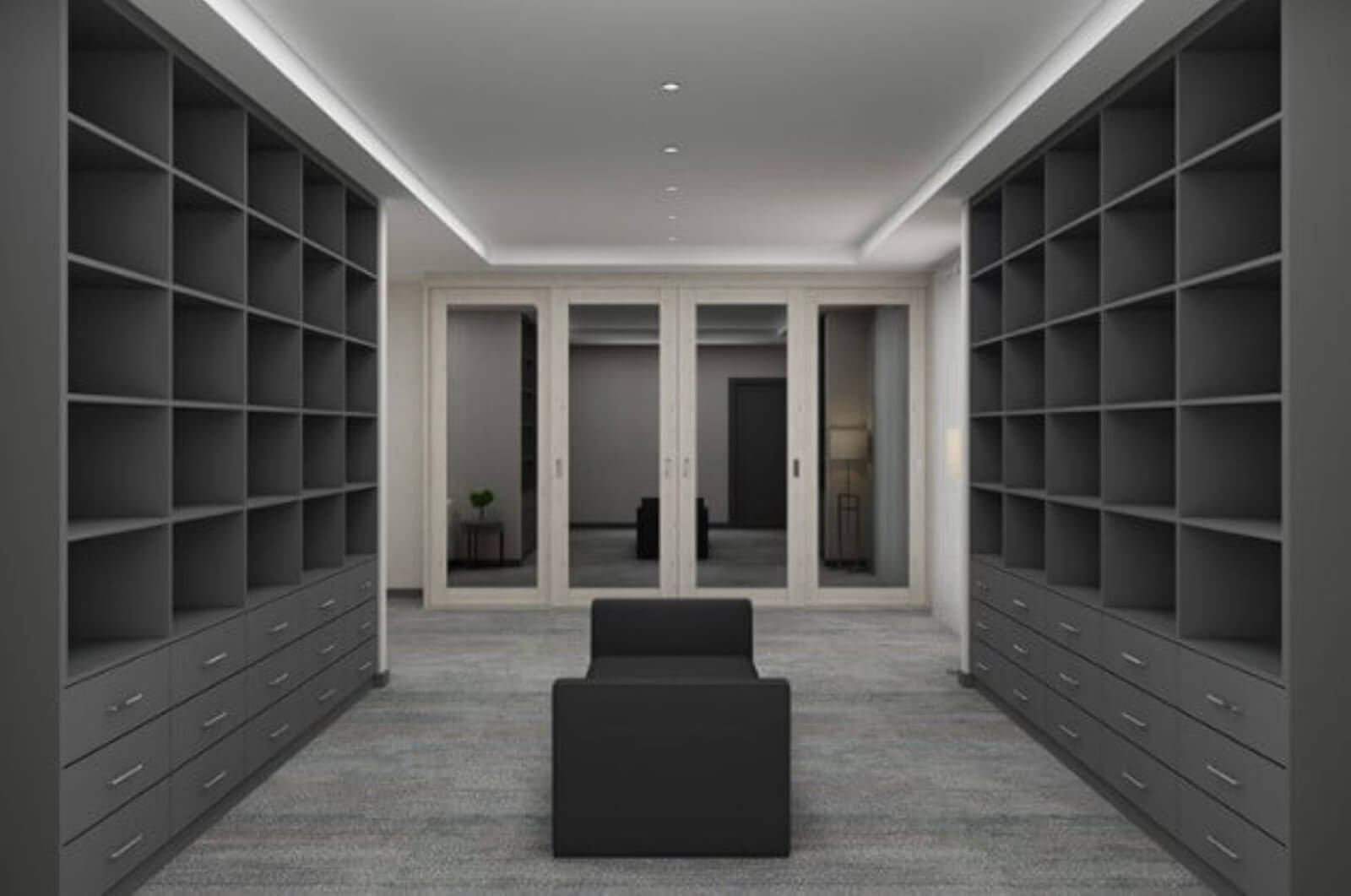 This sliding wardrobe design offers an inherently stylish space-saving solution to the home, evoking a minimal sophistication that's perfectly suited to modern interiors. Offering a contemporary take on the classic
Shaker Style Wardrobe
, our Milano style delivers sleek, seamless aesthetics and lasting functionality in equal measure.
Elegant Sliding Wardrobe Design
There's a distinctive laid-back beauty in minimalist wardrobe designs. These polished styles are crafted to subtly enhance the room without overpowering the additional intricate details that bring character and personality to your home.
Uncomplicated designs such as the Milano style sliding wardrobe have a timeless appeal that ensures your interior is lastingly stylish and beautiful for years to come.
The Milano style sliding door wardrobe offers a smart, frameless design that is expertly crafted to accentuate modern interiors. These designs, although simple in nature, have transformative power over the room, creating the illusion of larger open space to create a relaxing ambience that enhances mental wellbeing.
Introducing Milano Sliding Wardrobes into Home Interiors
It's no secret that the modern minimalist trend is still in the spotlight, so it's time to invest in wardrobes that create emulate this effortlessly cool yet glamorous aesthetic.
Frameless sliding doors offer a low-profile space making solution to contemporary homes. Expertly crafted to enrich a range of modern interior schemes with materials such as light woods and glass, Milano style wardrobes create a clean, flawless look in the home.
An essential component of strong minimalist design is the incorporation of innovative furniture that offers seamless mechanisms for smooth functionality and beautiful design.
Milano style shaker wardrobes have the added benefit of integrated handles for a stripped-back style that perfectly complements the modern minimalist look. This style looks exceptional when paired with soft, neutral wall shades, bold textures throughout the room in rugs and carpets and rich coloured accents including deep green cushions to uplift the look of the room and exude a chic minimalism.
Milano Style Sliding Wardrobe Design
This exceptional style showcases Sliding Door Wardrobe Company's keen eye for detail and dedication to storage solutions that bring matchless quality. We believe that wardrobe designs should merge matchless aesthetics with excellent functionality so we've brought you an enviable style that does just this.
Our Milano style wardrobes also offer innovative internal design. These excellent storage solutions have creative interior layouts for convenient storage, so you can make the most of your space.
The Sliding Door Wardrobe Company Milano style solutions are available in 49 glass varieties, 36 wood shades and 3mirror styles to bring your unique design visions to life. Choose from a range of stunning finishes including, Light Hickory, Matt Light Grey, Grey Bardolino Oak, Matt Onyx and Matt White to capture the modern minimalist look. We also offer incredible bespoke wardrobe sliding doors so you can create a look that's uniquely yours.
Made with our trademark quality and durability, our
Milano style wardrobes
are expertly manufactured to stand the test of time. Discover
Shaker sliding doors
with a difference when you invest in our affordable Milano style wardrobes.
Have any questions about our range of
Milano sliding door wardrobes
? Call us today on
0191 487 5870