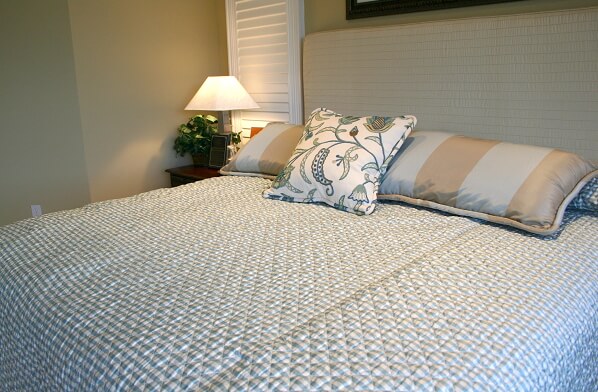 Underused and neglected – that is the fate of too many guest rooms. But it doesn't have to be that way; just because the guest room isn't used as much as other rooms, doesn't mean you can't give it the same TLC. After all, if you're trying to show off your interior design skills to guests, the guest room is the first place you should start. Our guide offers a few tips on the best way to approach decorating your guest room.


Embrace Neutrality
More than likely, your guest room will have to cater for a variety of guests with a variety of tastes. In order to make as many of them as possible feel at home, it is important to embrace neutrality. Stick to neural colours as much as possible, perhaps accentuated with a carefully chosen accent colour. If you have a painting, photograph or furniture piece you want to highlight, choosing an accent colour that matches can work well. As well as design neutral, the guest room should also be gender neutral. This is easier said than done as almost all rooms tilt toward either feminine or masculine. A good tip here is to choose masculine version of feminine styles, or vice versa, and limit their application. For example, if you want to use floral patterned wallpaper, choose a bold style and only apply it to a feature wall; if you want to use dark leather furniture, only use one piece and choose brown over black.


The Personal Touch
The danger with neutrality is that your guest room becomes too 'hotelish'. While it is important that a guest bedroom offers the same comforts as a hotel, it is still part of your home and should also include a touch of personality. This is trickier than it sounds. Many people's first instinct is to include lots of family photos. This is not always a good idea as it can make your guest feel like an intruder in a family home. A better idea is to include a decorative furniture piece that reflects your personality. If you're a musical household, perhaps include a guitar on stand; if you're keen readers, a small bookcase filled with books makes a personal statement. Non-family pictures are acceptable, too. Architects might consider framing some interesting building plans; cyclists could include pictures of routes they have cycled. You may also want to consider highlighting your location to distinguish your guest room from a hotel. Coastal properties could offer a nautical theme – always a popular choice; urban homes could offer a skyscraper inspired theme with plenty of thick frame pictures and mirrors.


Choosing Furniture
The most important piece of furniture in your guest room is the bed. A guest room bed should make you want to jump straight in. Make it inviting with a thick duvet, at least a couple of plumped up cushions and a nice throw over the foot of the bed – the 'well-dressed' look. The bed linen should also be accentuated by matching towels and perhaps even a nice rug. Guest rooms should also offer guests some space to make themselves at home. A reading light and a bed table – two if possible – are prerequisites, a dressing table with a mirror would also be useful for most guests and a full length mirror is always a good idea. You may also want to consider mirrored sliding door wardrobes. Not only do these wardrobes offer the essential mirror for guests, they also provide ample storage for the clutter that occupies most people's guest rooms. Just be sure to include some space for guests' belongings within the wardrobe. Most guests won't bring too many clothes, but a few hangers for suits, dresses and other clothing that needs to be hung never go amiss.


Try it Out
It might seem a bit unusual, but the best way to be sure your guest room offers a fantastic experience for guests is t try it out yourself. Pack a small case and move in for the night! This is without question the best way to see if your guest room has all the comforts you would expect from your own room. You may also notice things like outside noise and breaks in the curtain that let in light – things you would never notice unless you sleep in the room. Addressing these issues is paramount to ensuring your guests enjoy their stay. After all, a good-looking room is always secondary to a good night's sleep. What do you think about our guest room ideas? Do you have any ideas you recommend? Or perhaps you prefer to keep your guest room as a storage space?