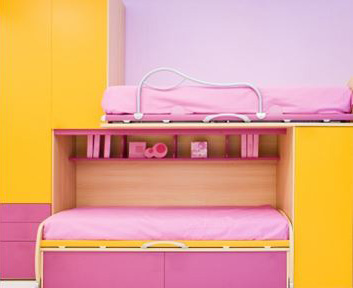 If you have kids, you can't have failed to notice that they acquire clutter at an alarming rate. Without an effective storage solution, your kids' rooms will soon look like a jumble sale. Luckily The Sliding Door Wardrobe Company is here to help. Our list of storage solutions for kids' rooms includes several space saving tips to keep your home clutter free.


Look Up
If you have high ceilings, make the most of the extra headspace with a row of high-level shelves. High level shelves are the ideal place to store seldom used kids' toys or childhood treasures that are too precious to throw away but long since outgrown.
If shelves aren't going to cut it, or you don't want to display your clutter, wall mounted cabinets with an enclosed front are an equally effective and attractive option.


Under the Bed
Under the bed storage offers an easy way to hide kids' clutter. For those on a budget, a few storage buckets are all you need. Those looking for an even tidier (yet more expensive) solution should consider a bed with built in storage. Beds with lift –up storage offer excellent storage, even for large items, but might be difficult for younger kids to use. In that case, beds with drawers are more suitable.
You can also combine sleeping and working areas by buying a loft bed with room for a desk or play area underneath.


Window Seats
If your kid's room has a large window, especially a bay window, a storage window seat can make an excellent storage solution. The odd shape of the bay area means the space within it is often used inefficiently. A window seat provides a great place to sit and play as well as a large amount of storage space.
For those looking for a more affordable solution, consider a blanket box or free standing bench with a few cushioned pillows.


Fitted Wardrobes
You won't be surprised to learn that our biggest storage solution tip is to install a fitted sliding door wardrobe. Offering floor to ceiling, fully customised storage, there is very little that a sliding door wardrobe can't be customised to hide. A particularly useful tip for young children's sliding door wardrobes is to install two clothes rails, one above the other. Given the short length of children's clothes, there is often room to do this. You can also remove the lower rail when your child grows older.
Our children's sliding door wardrobes can also be tailored to fit even the most awkward of room shapes, including uneven corners and rooms with sloped ceilings.
What space saving ideas do you use for your kids' stuff? Let us know by using one of the social media links below.